What can we accomplish with a little collaboration? A lot. Last week five City departments released a total of 15 new data sets in support of Azavea's EcoCamp event. Among those contributing were the Streets Department, the Mayor's Office of Sustainability, the Community Life Improvement Program (CLIP), Parks and Recreation, and the Water Department.
EcoCamp is a series of events "promoting sustainability and the environment through technology." Held June 20-22, the events included workshops, an "unconference" (where sessions are led by conference attendees), and a hackathon, a contest for teams of civic hackers to develop software or other technology-driven solutions to the city's challenges.
The departments' new datasets were all environmentally-themed. City departments worked hard to release data for EcoCamp. Mining, scrubbing, and releasing data for public consumption are tedious tasks but these efforts are important. Not only does releasing data work to increase government transparency, it also provides an opportunity for passionate Philadelphians to build software that will improve the lives of other residents. This is why departmental efforts to release data should be celebrated; released data means more tools and apps for Philadelphians like PHL Crime Mapper, baldwin.ph, and schoolbudget.phl.io.
"Data driven decision making is critical when spending precious dollars solving complex problems such as littering and low recycling rates. We are thrilled that  folks are using our data to help us better understand root causes and enable the Department to clearly focus its education and outreach efforts."  Commissioner David Perri, City of Philadelphia Streets Department
The Streets Department released five datasets for EcoCamp Philly including:
Code Violation Notices
Big Belly Waste Receptacle Locations
Litter Index
RecycleBank Participation
Recycling Division Rates
Parks and Recreation released:
Street Tree Plantings
Street Tree Prunings
Street Tree Removals
TreePhilly Yard Tree Giveaways
The Community Life Improvement Program (CLIP) released:
Vacant Lot Cleanups
Exterior Property Cleanups
The Water Department released:
Rain Barrel Database
Green Stormwater Infrastructure
Other releases included:
The Mayor's Office of Sustainability released Energy Benchmarking Compliance data
Big Belly released six months of usage data for their solar powered waste receptacles
The University Bike Coalition, working with the Mayor's Office of Transportation & Utilities, released their Bike Rack Demand Survey
The datasets can be found here. Several representatives from these departments also attended EcoCamp Philly, leading workshops and helping at the hackathon.
EcoCamp Philly proved to be a success, yielding five projects from the hackathon. These included Stormfighter, a project by Chris Nies who used the Water Department's rain barrell data, sewer system data, impermeable land data, and green infrastructure data to recommend ideal locations for rain barrels. A team named LitterDexPHL (a group of mostly Haverford College students) created a map of litter areas using RecyclingBank and litter data, pairing that data with demographic and language data. The project hopes to help the Streets Department better identify target areas for its litter reduction and recycling campaigns.
The Philly Urban Agriculture project intended to expand on Grounded in Philly, an app that filters properties by land permeability, shade cover, land slope, and other sustainable features to identify potential spaces for urban agriculture. The project used watershed, land permeability, building footprints, and the Delaware Valley Regional Planning Commission's land use data. A project called MyPark used park boundaries and trail data from Parks and Recreation to create an app for park users to report problems and take ownership of parks and trails. Finally, MilkCrate, a startup that's building an app for local and sustainable living, used farmers markets and healthy corner stores data to to create a map to locate sustainable businesses.
Here are a few of the results from the weekend via Twitter:
 @TimWis: #phillyecocamp team presents MyPark, an app using @PhilaParkandRec data to encourage neighborhood park stewardship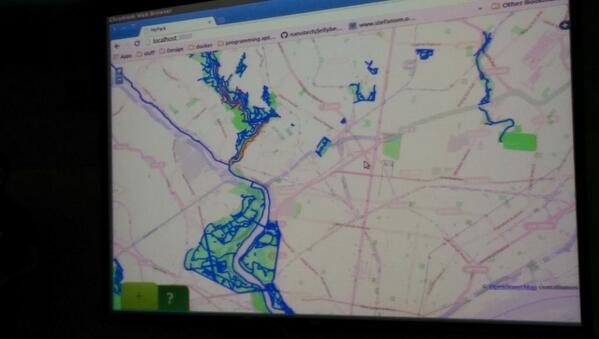 @TimWis: #phillyecocamp team presents analysis of litter index compared to languages spoken to help@PhilaStreets ad campaigns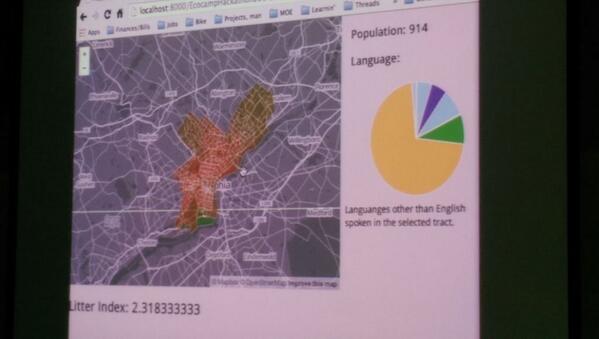 @Azevea: Should we use languages other than English in anti-littering campaigns? This#PhillyEcoCamp team thinks so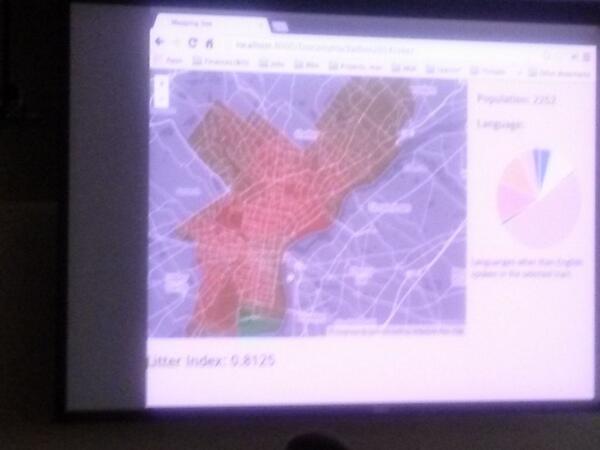 @TimWis: Listening to@christophernies present his map of@PhillyH2O rain barrel location recommendations at#phillyecocamp